Ruthless Times – Songs of Care (Armotonta menoa – hoivatyön lauluja)
474
474 people viewed this event.
Susanna Helke
Finland
VO: FI | ST: EN, FR
92 minutes
Screening: Friday 3 February: 19:15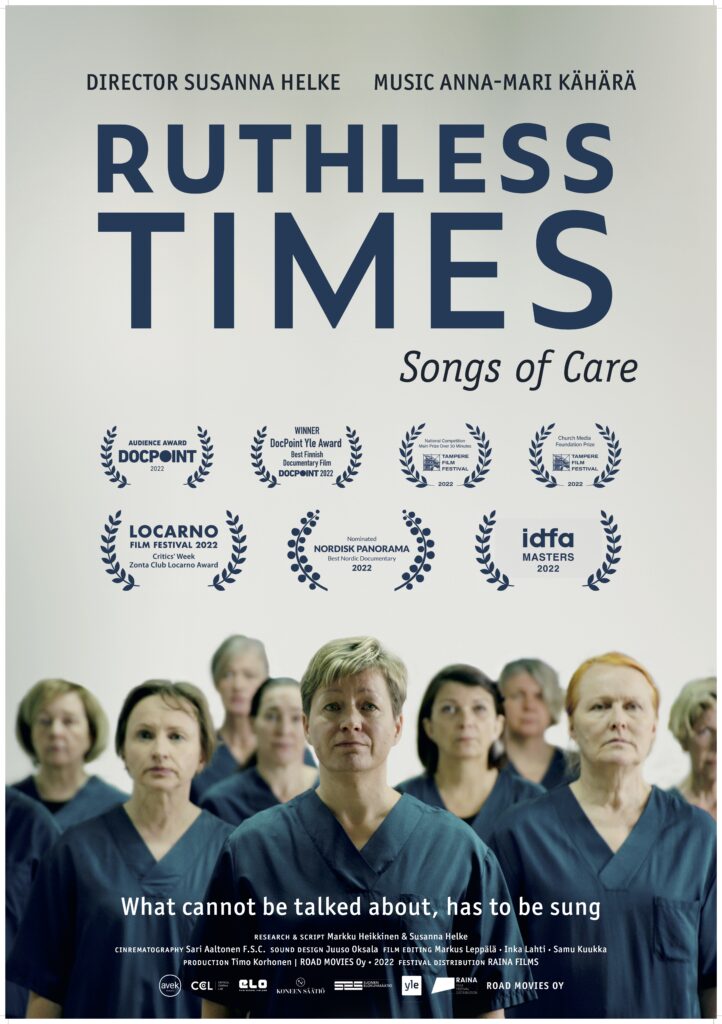 Finland is often considered as a haven for public service, but it sure has its own share of trouble with the drippling effects of neo-liberalism. Shall we sing about it?
In "Ruthless Times- songs of care", a small provincial town recently decided to privatise their retirement home. The local council's hope is for the new company to inject some much needed modernity in the provided care. But the town's citizens start realizing the decision might simply be economical. And soon the nurses start complaining about the intensity of their shifts, the stingy food portions imposed by their new employers, and even threats to get fired if they dare speak about it. Director Susanna Helke had the genius idea to ask them to sing about it. And it makes for a great whack in the bushes of what we know as film activism, notably thanks to the hypnotic and confronting songs written by Anna-Mari Kähärä. With tacit nods to the recent Orpea scandal, and to the post-COVID disillusion in the care sector in general, 'Ruthless Times' feels like an accomplishment both on a political and an artistic level. One that easily reaped jury and audience awards in the festival circuit (Docpoint Helsinki, Locarno). 'Ruthless Times – Songs of Care' is part of Polarise Nordic Film Night's double bill on 'Musical Finland'-together with Karaoke Paradise.
La Finlande a beau souvent être admirée pour ses services publics, cela ne l'épargne pas des effets néfastes du néo-libéralisme. Et si on chantait pour s'y intéresser ?
Une petite ville de province vient de privatiser sa maison de retraite. Le conseil communal compte ainsi sur la nouvelle entreprise pour garder les soins à la pointe de la modernité. Mais les citoyens se demandent si la décision n'est pas qu'économique. Et le personnel soignant se plaint bientôt de l'intensité de leurs shifts, des réductions dans les portions de nourriture imposées par leur nouvel employeur, et même de menaces de licenciement pour éviter les fuites. La cinéaste Susanna Helke a eu l'idée de génie de leur demander de chanter sur le sujet, et dépoussière le cinéma engagé au passage, entre autres grâce aux chants hypnotiques écrits par Anna-Mari Kähärä. Évoquant tacitement le récent scandale Orpea, ou la désillusion post-COVID dans le secteur des soins en général, 'Ruthless Times' est un tour de force aussi politique qu'artistique. Au point d'emporter de nombreux prix du jury et du public dans le circuit des festivals (Docpoint Helsinki, Locarno). 'Ruthless Times' est le film d'ouverture de la double séance 'Musical Finland' des Polarise Nordic Film Nights, avec Karaoké Paradise.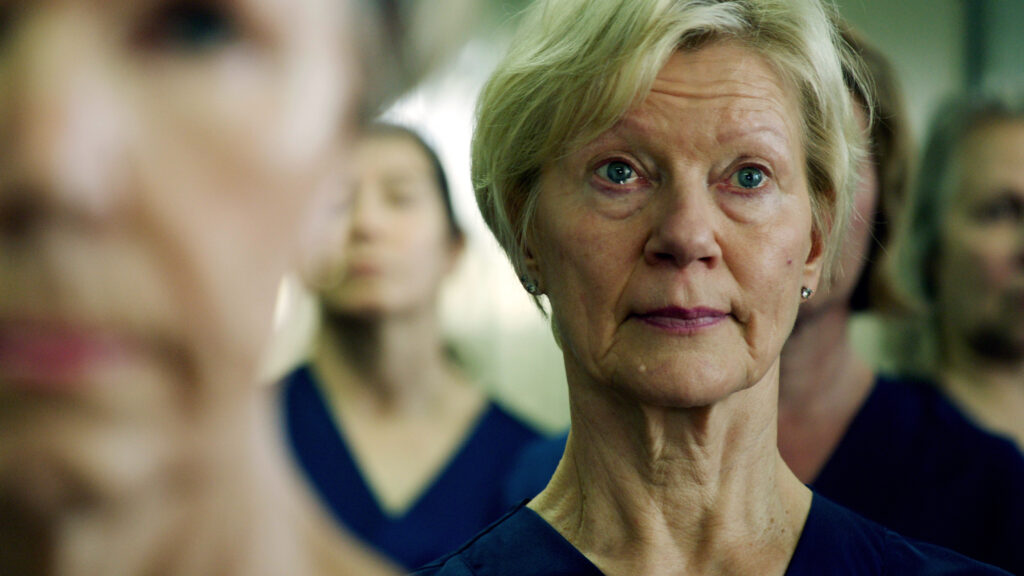 Ontdek de meest creatieve en eigenzinnige benadering van politieke cinema in deze documentaire over bejaardentehuizen en de privatisering van sociale diensten in een land dat vaak wordt beschreven als een oase van publieke dienstverlening. Zullen we het bezingen?